A REDISCOVERED MASTERPIECE ATTRIBUTED TO FRANCESCO BORDONI SCULPTOR TO THE KING (1574-1654) THE BRONZE BUST OF PAUL PHELYPEAUX DE PONTCHARTRAIN (1569-1621)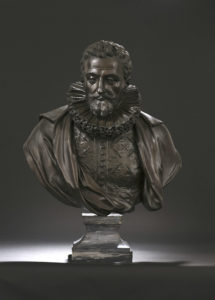 At Auction in Paris at Drouot, 20 November 2019
Attributed to FRANCESCO DI BARTELOMEO BORDONI
(Francisque Bourdonny) (Florence circa 1574 – Paris 1654)
Paul Phélypeaux, seigneur de Pontchartrain (Blois 1569 – Castel-Sarrazin 1621)
A bronze bust with a brown patina on a turquin blue marble socle
Height with base: 87.7cm, 34 1⁄2 in Dimensions: 70.5 cm x 66 cm, 27 3⁄4 x 26 in Height of the base: 17.2 cm, 6 3⁄4 in
On the verso a brass plaque with the inscription:
« PAUL PHELYPEAUX – SEIGNEUR DE PONTCHARTRAIN – SECRETAIRE DESTAT- 1610 »
Commissioned from Bordoni for the chapelle des Trépassés, Church of Saint-Germain-l'Auxerrois, Paris
Provenance
• Louis II Phélypeaux, comte de Pontchartrain (1643 – 1727) before 1714
• Jérôme Phélypeaux,
comte de Pontchartrain (1674-1747)
• Jérôme Phélypeaux,
comte de Pontchartrain (1674-1747)
• Jean-Frédéric Phélypeaux,
comte de Maurepas et de Pontchartrain (1701-1781)
• Diane-Hortense Mancini-Mazarini, (1742-1808) spouse of Louis-Hercule de Cossé-Brissac,
duc de Brissac (1734-1792)
• Adélaïde de Cossé-Brissac (1765-1818), spouse of Jean-Baptiste de Rochechouart, duc de Mortemart (1752-1812)
• Thence by descent
Estimation
500 000 / 800 000 €
Five key facts
This major work of sculpture shows the historical importance of Paul Phélypeaux de Pontchartrain (1569-1621), minister to Henri IV who brought stability to the kingdom following the assassination of the king.
Never before at public auction has there been such an important 17th century bronze of this superb qualityrepresenting a key figureof the history of France. The sale of this unique bust by DE BAECQUE & Associés is an important event for the art market.
Scientific and technicalanalyses, as well as important archival research undertaken by the experts of Sculpture et Collection have allowed for the attribution of this exceptional cast to Francesco Bordoni (1574-1654), an artist of Italian origin who becamethe official sculptor to theking of France.
Today, only a dozen such royal portraits in bronzeare known and they are all held in private collections and museums, notably at the Louvre. This bronze will now enrich the extremely small number of existing busts of dignitaries.
Intended for the church of the Louvre – Saint-Germain L'Auxerrois – the sculpture has remained for 400 years with the descendants of Pontchartrain himself.