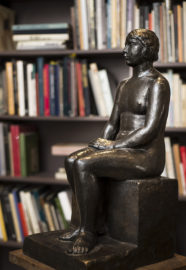 EXPERT APPRAISAL
The principle activity of Sculpture & Collection is the expert appraisal of any Western sculpted object, from the Middle Ages to our day. This appraisal is as much intended for public auction houses as for institutions and private collectors. The expertise summons up all of our resources and skills and is carried out in a collegial way.
It includes three principle axis:
The authenticity of sculpted works that have already been identified
For anonymous works, research concerning attribution, dating and school
Systematic research into the traceability of the work to ensure it is not requested for theft, despoilment, etc.
Oral advice is delivered freely; a fee applies for written statements of the expert appraisal
ESTIMATE – VALUATION
A work can be estimated for an auction sale, for the promotion of a collection, for a commercial operation, for an insurance contract or for an inventory in the case of succession.
The value of a sculpture is determined according to the following criteria:
The place of its author in the history of art
Its intrinsic qualities
Its state of conservation
Its history (provenance, exhibitions and publications)
The current trends in the art market
In the context of an institutional mandate, Sculpture & Collection can also give an estimate for a donation, a legacy or a payment in kind.
To carry out an estimate or a valuation, Sculpture & Collection relies on a vast specialized documentation and on the mastery of databases and digital resources.