Félicie de Fauveau (1801 -1886) and Hippolyte de Fauveau (1804-1887)
Santa Reparata
Polychrome Terracotta, gold highlights
Signed and dated "DE FAUVEAU 1855" under the artwork and HP. [for HIPPOLYTE] de/ Fauveau / F. [for FELICIE] [facie]bant / Florentia / 1855 on the left side
Titled "Santa REPARATA" in the front and inscription "8 DIE OCT 1865" in the above frame
Little restorations

H : 90 x L : 33 cm
-Collection of Princess Marie Antoinette of Bourbon-Siciles (1814-1898), the Grand Duchess of Tuscany, probably in 1865 or after 1870 in her property of Schloss Ort, renamed Villa Toscana (Gmunden, Austria); -Collection of the industrialist Karl Wittgenstein (1847-1913) who acquired Villa Toscana at the beginning of the 20th century; -Offered to her daughter Margarethe Wittgenstein (1882-1958), wife of the American collector Jerome Stonborough (1873 - 1938); -Collection of Major John Jerome Stonborough (1912-2002). Then by descent; -Legs of the Stonborough family to the current owner; -Private collection, Austria.
Estimate : 10.000/15.000 €
Hammer Price : 60.000 €
Related literature :
-Archives Nationales, Paris : Private funds Félicie de Fauveau, sous-série 723AP/1, dossiers 1 à 5;
-Isabella Blagden, "Felicie de Fauveau", in 'The English Women's Journal', vol. II, n° 8, octobre 1858, p. 91;
-Elizabeth Fries Ellet, 'Women Artists of all ages and countries', New York, 1859, p. 232;
-J. Barbotte, "Catalogue scientifique de l'oeuvre", in Félicie de Fauveau : héroïne vendéenne et sculpteur romantique, 1801-1886, thèse, Paris, Ecole du Louvre, 1971, p. 150 ;
-Félicie de Fauveau. L'amazone de la sculpture, catalogue de l'exposition. Les Lucs-sur-Boulogne, Historial de Vendée, 15 février-19 mai 2013 et Paris, musée d'Orsay, 11 juin – 15 septembre 2013, Gallimard, 2013, ill. 43 (photographie vers 1870 : Félicie de Fauveau devant la sculpture de Santa Reparata, Album des Antiques), ill. 69 (photographie de 1855 : 'Terre Cuite Sta Reparata Florence 1855, Balcarres, album "Ouvrages", fol. 32,) p. 216, n°54, p.336.
Wednesday 21 March 2018
Artcurial - Paris
Hôtel Dassault - 7 Rond-Point des Champs Elysées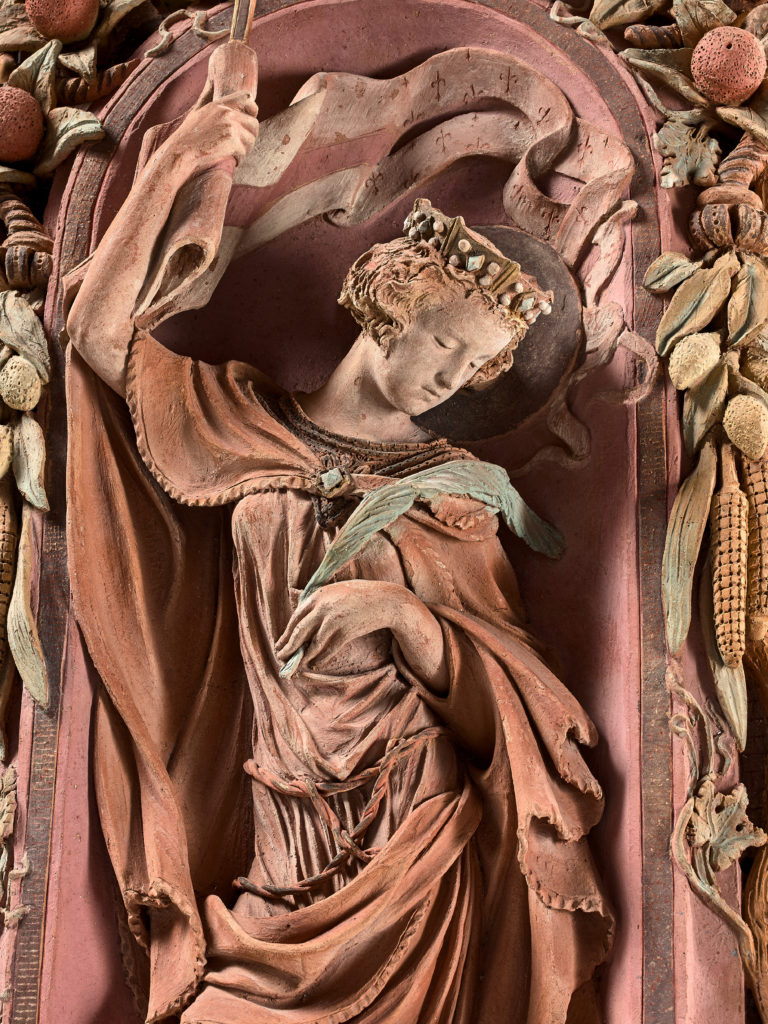 Slideshow